PREMIER LIVING
Our professional deck contractors know how to make the outdoors your family retreat.
Do you like to spend your time outdoors when you are at home with your family? Our deck design ideas are unique and will define your deck or patio as the centerpiece of your home.  Enjoy your deck or patio year round, day or night. Our deck ideas feature vaulted ceilings, outdoor kitchens, fireplaces, and we can even incorporate your electronic devices for home entertainment. Let our deck designer create the deck or patio of your dreams.
OUTDOOR LIVING
CREATE YOUR VISION
See your vision? Regardless of the answer, we can create the space of your dreams. Your ideal space to rest and relax, hang out with family and friends and enjoy the outdoors.
Deck Design Features
With so many elegant deck design choices available our deck builders are here to impress. If you have a deck idea, our deck design team can bring it into action. Check out our deck ideas and all of our added features along with our premium products to stand the test of time and weather.  Colorado Creations design team has the most ideas and can get the most usable space from your homes added features. Bring that executive feeling outdoors today with a brand new deck or patio by Colorado Creations.
Year Round Decks
Colorado Creations wants you to be able to use your deck year round.  Our custom decks can include many features to protect you from the elements.  We can easily add a cover to your deck or patio, and add lighting to use your deck at night.  What about adding glass inserts, and doors to keep the elements out while not obstructing your view.  And of course you cannot forget climate control. We can include heat lamps, ceiling fans, fireplaces and much more.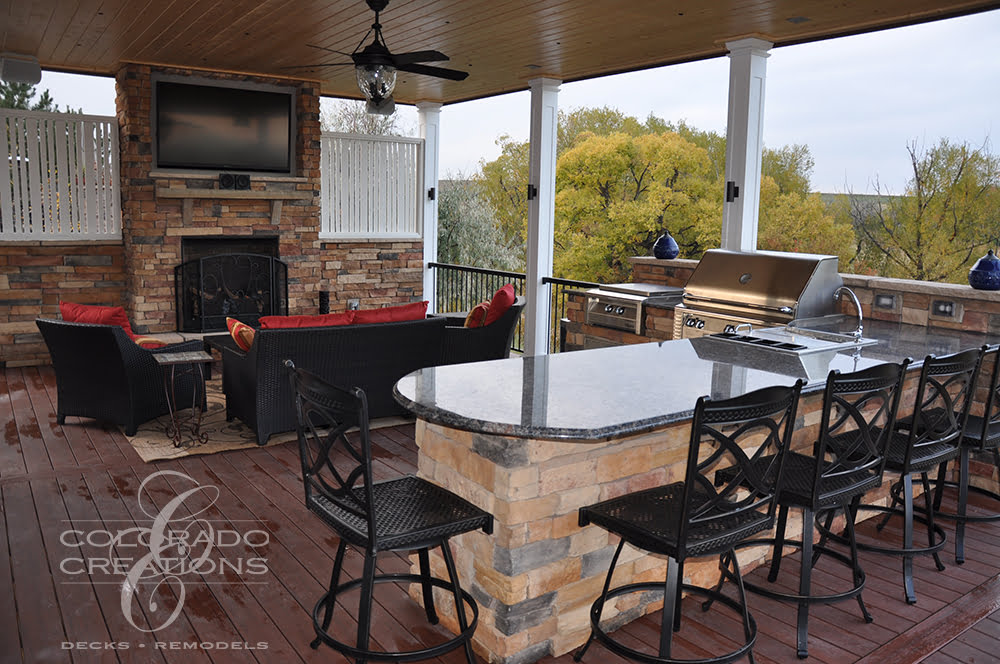 Outdoor Living
Entertaining family and friends has never been easier with all of the options available. Our deck builder and deck design professionals will make sure there is plenty of room for everyone. Our deck designs include full outdoor kitchen's, fireplaces, TV's or anything you desire.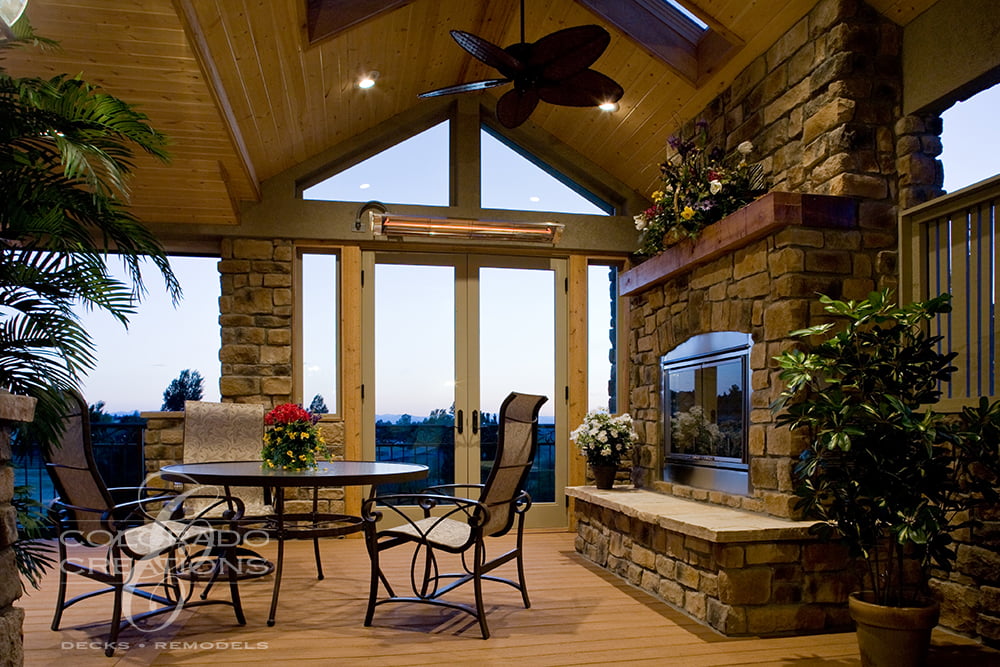 Stay warm and dry!
Our decks feature many deck design aspects to protect you from the elements. Patio covers can easily be incorporated into any deck or patio design along with windows, glass doors or glass inserts to protect you from the elements but not obstruct your view. Patio and deck ideas for climate control can include heat lamps, ceiling fans, fireplaces, fire pits, among others.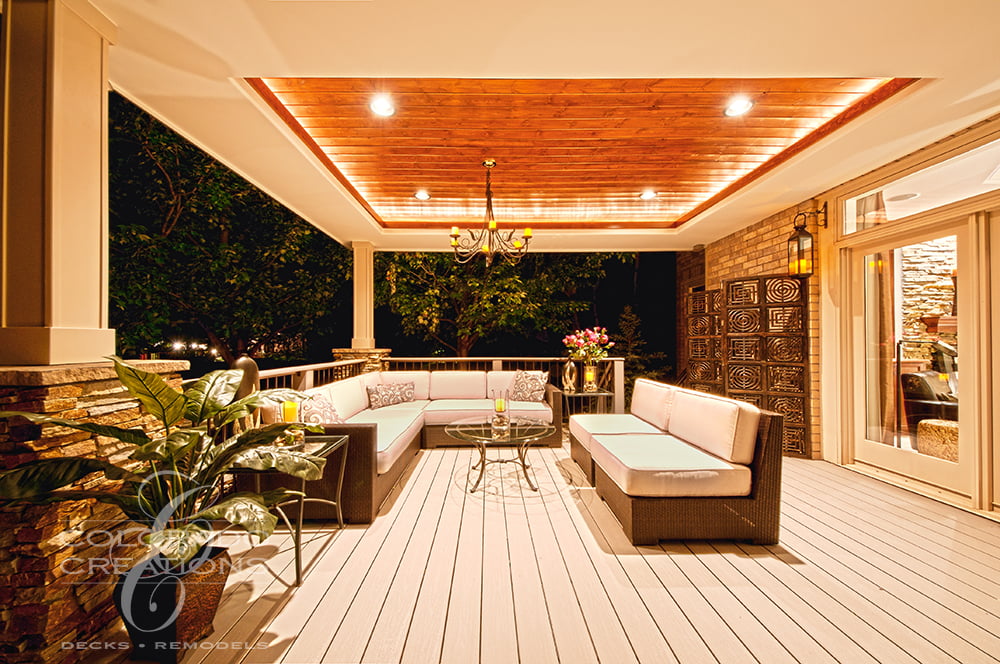 Impressive Decks
Do you want your deck to impress? Colorado Creations can create the outdoor living space any executive would be proud of. Whether entertaining family, friends or colleagues, our deck designs will have your guests remembering their visit.
CREATIVE DESIGNS FOR YOUR HOME
OUTDOOR LIVING
If you know what you want to use your deck for but don't know how to design or build it, Colorado Creations is here for you. We can take your deck ideas or patio ideas and create a deck design or backyard escape you never imagined could be possible. Our deck designer will show you deck ideas, deck designs, patio ideas, deck railing ideas, patio covers, deck materials, composite decking or whatever you want to see.
Colorado Creations Deck Remodeling is perfect for someone who would like to increase the usable space of their home with a deck or patio. By adding space or optimizing the space you currently have, adding patio covers among other deck ideas, Colorado Creations can improve the functionality and appearance of your home. The added space can give you more living space or allow you to enjoy the outdoors like never before.
When it comes to creating your outdoor living space, there is never a shortage of deck design ideas. We can build your deck with lighted patio covers, create an outdoor room, add a privacy wall, accent lighting, decorative wood or natural wood accents. Our deck designs include pool decks, hot tub decks, composite decking, deck railing, spiral staircases, trellises, arbors, or anything you can come up with.  With many features such as vaulted ceilings, built in entertainment centers, climate control systems, our deck ideas will give you the deck or patio of your dreams.
Our Deck Remodeling Packages include many refined touches such as granite countertops on your built-in kitchen and elegantly designed fireplaces. Whatever vision you have for your outdoor living space, Colorado Creations can build it. With access to the finest decking material and craftsman to complete the work, Colorado Creations deck builders will work to create a space to impress anyone. Bring the professional atmosphere outdoors when you entertain clients or colleges at your home. Incorporating a tech deck will turn an afternoon meeting via the internet, into a BBQ on your built in grill under your patio cover, and maybe even time in the pool with a custom pool deck.
Colorado Creations deck designers and deck builders have years of experience with countless options available. See our portfolio of custom deck ideas to find what deck design inspires you. With so many custom deck design ideas available, along with patio ideas, finding the right solution is only a call away. Meet with one of our deck design professionals and bring your deck ideas to life.
Deck Ideas and Patio Ideas:
Redwood and Cedar Decks
Composite Decks
Trellises and Arbors
Custom Iron Railings
Wood and Composite Railings
Benches and Privacy Walls
Patio Covers
Fireplaces and Fire pits
Outdoor Rooms
Accent Lighting
Decorative Concrete
Hot Tub Areas
Patio Doors
Spiral Staircases
Water Features
Grilling Centers
Built-in Kitchens
Our Deck Designs Ideas in Action!
Check out our finished project photos below to inspire your New Deck!