BASEMENTS
Our unique basement remodeling ideas will truly impress. Our basement designs come with countless options and we can find a basement design to inspire you. Our premier basements include fine hardwoods, marble countertops, stone accents, grand pillars, luxurious lighting and more. Create a exquisite space to spend time with family and friends.
LUXURY LIVING
Our luxurious basement remodeling ideas will have everyone in awe.  Impress both your family and friends with a space that they will never forget.
Stand out above the rest!!! A Premier Basement from Colorado Creations will have all of your neighbors talking. Your basement will be where everyone wants to hang out. Entertain family and friends like never before with your newly remodeled basement.
Our Premier Basement ideas include only the finest finishes and upgrades. You pick the flooring… Wall to wall carpet for warmth, wood floor for a clean polished look, or a tile floor for a lavish finished look. See our basement remodeling ideas to add an accent such as a stone hearth for your basement fireplace, or use a stone finish for walls, pillars, or even your bar. For your built-in entertainment system, cabinets, or basement bar, you pick the wood and the finish, and we will make it the centerpiece or accent for your basement remodeling project.
Award winning designs to impress! Professional, Luxurious basement designs to fit your lifestyle.
A Professional Touch
Want to add a refined touch to your basement remodel with some professional, luxurious basement remodeling ideas? We have beautiful basement design ideas any working professional would be proud to exhibit. Get the most out of your basement remodel while incorporating your personal taste and character.
Our basement design ideas include fine hardwoods, marble countertops, stone accents, grand pillars, luxurious lighting and much more! Incorporate basement bar ideas into your basement remodel with a pool table, or create a home theater to entertain family and friends. We can add theater seating to almost any basement remodeling design.
Entertaining Ease
Entertaining has never been easier! Our executive basement remodeling ideas include controls for all of your electronic devices, controls for lighting, climate control, and direct access to the internet for all of your entertaining needs. Add a small kitchen or bar with a fridge for easy access to your favorite refreshments. Don't forget that bathroom and you will never have to go upstairs again!
With so many basement remodeling ideas our contractors are here to impress. We can bring your basement idea into action to finish your home remodel. Need some basement ideas? See our portfolio to get your juices flowing!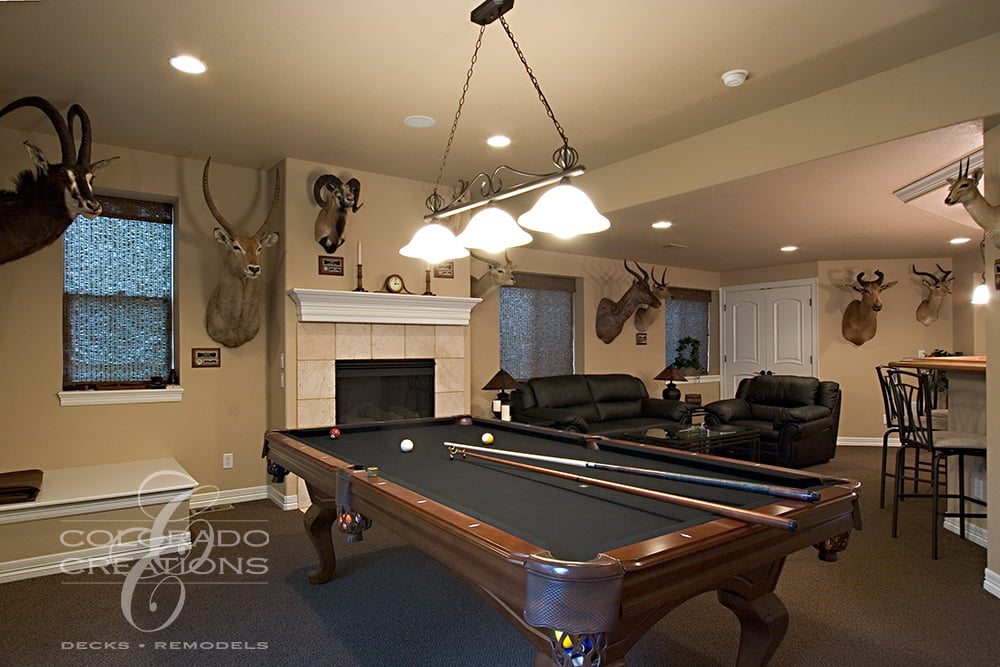 Man Cave
Looking to impress your friends with a man cave that all of your friends will envy? We have man cave ideas ranging from a game room with a bar, a home theater room for game day, or maybe even a walk in beer cooler. (Just tell your wife it's a refrigerated wine cellar!)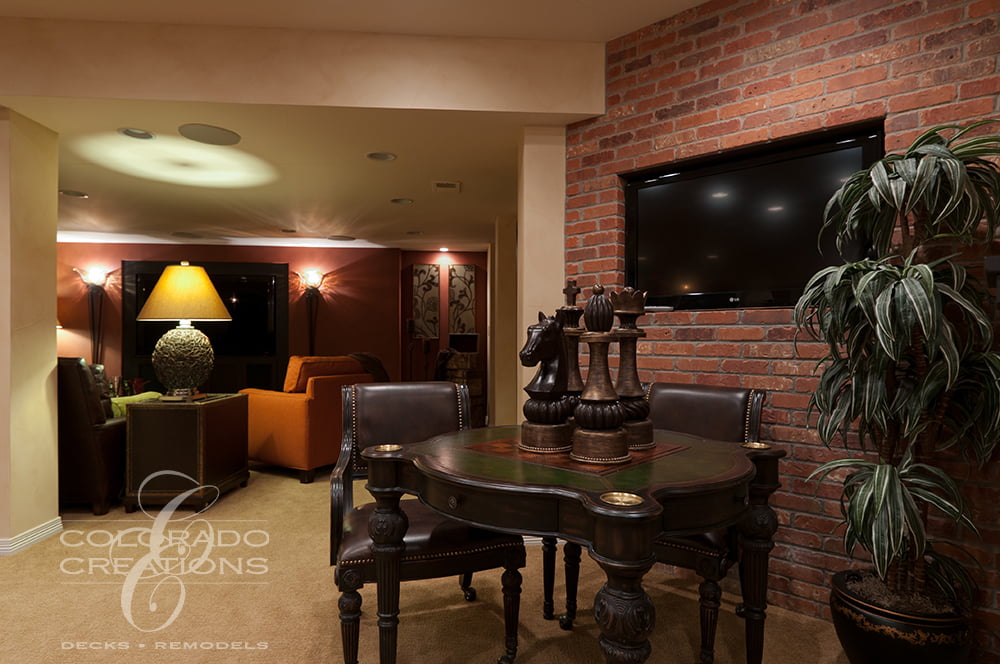 Family Time!
When it comes to basement remodeling, we never have a shortage of ideas. We can turn your dark and dreary basement into a bright, warm, inviting space for all of your friends and family to enjoy. Our basement ideas are second to none and will make the most of your space and along with your basement remodeling ideas you will get the space you are dreaming of. Spend more time with your family in a space that is made for everyone to enjoy!
CREATIVE DESIGNS FOR YOUR HOME
UTILIZE YOUR BASEMENT TO IT'S FULLEST POTENTIAL
Not using your basement due do the lack of functionality or appearance of your basement? Do you have basement ideas but no time or expertise to create your dream? Share your thoughts, and with Colorado Creations basement remodeling ideas, we can make your dream a reality.
Our creative basement remodeling contractors will customize your basement remodel to fit your home and lifestyle. Is your basement unfinished, dark, and dirty? A finished, unused basement with a need for a new look and feel? Get the most out of your basement remodel adding functionality, living space and value to your home while creating a space for you and your family to enjoy.
Check out our basement ideas.  You will find the most unique ideas looking through our collection. We have man cave ideas that will make you proud. Our basement bar ideas will give you a new place to entertain. Add a wine rack, a tap, counter, sink, bar stools and if room allows a pool table. Need a family room, or a home theater? No space is too big or too small for our professional basement remodeling contractors.
Colorado Creations basement remodeling contractors have years of experience with countless options available. See our portfolio of basement ideas to find what basement remodeling idea inspires you. With so many custom basement remodeling ideas available finding the right solution is only a call away. Meet with one of our professional remodeling contractors today and bring your basement ideas to life.
Basement Ideas
Custom Entertainment Centers
Our Basement Remodeling Ideas in Action!
Check out our finished project photos below to inspire your basement remodel.